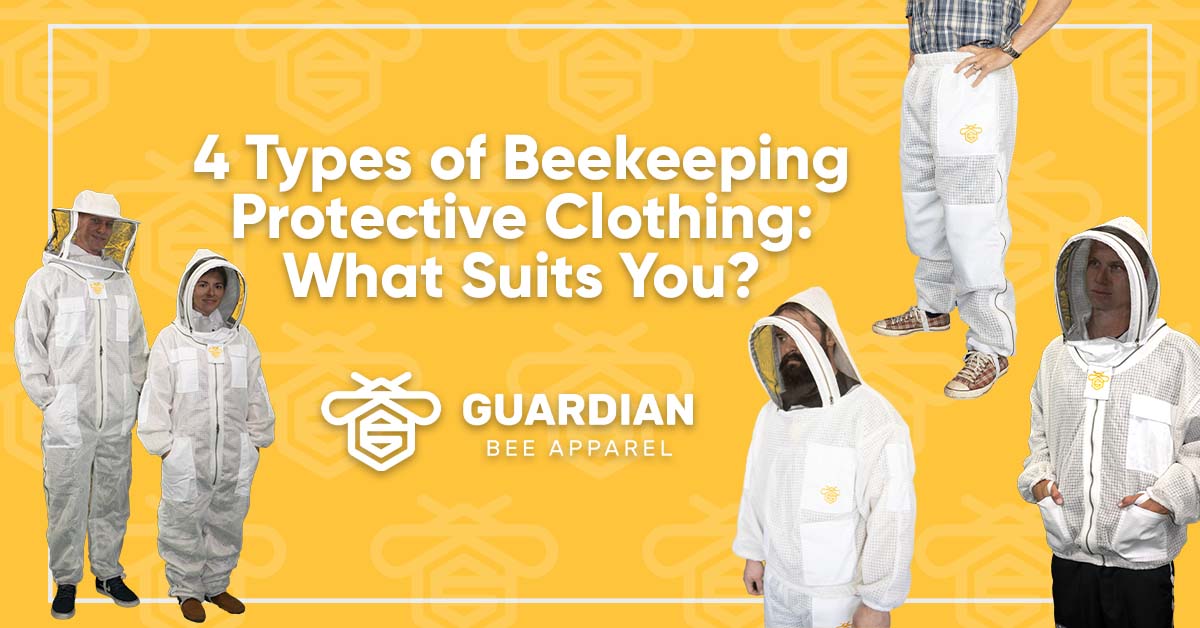 For beginner beekeepers, a question comes to mind: what kind of beekeeping protective clothing suits your needs? There are bee suits, beekeeping jackets, and beekeeping pullovers. All of them provide different benefits to the beekeeper. However, those options can be confusing when starting a hobby.
Guardian Bee Apparel is here to offer an easy beginner-friendly guide to determining which style of beekeeping protective clothing suits you. We offer a range of high-quality, highly sting-resistant mesh wear. Our ventilated protective wear comes in three different types, which can help you tend to your hives without sacrificing protection to avoid heatstroke.
Beekeeping Suits
The beekeeping suit is the first and most common type of protective clothing. These suits are whole-body, offering maximum protection from head to toe. At Guardian Bee Apparel, we provide a highly-sting resistant, ventilated, 3-layer mesh suit that keeps you cool and comfortable even on the hottest summer days. These suits come with a triple zipper system for easy access to the internal clothes and a fully removable veil that a beekeeper can exchange with any of our other veil styles.
The suit seems like the best option for many newcomers to the beekeeping hobby. It provides the most full-body protection from bee stings and stains while coming as an all-in-one solution, so you don't have to buy separate pants. However, as you progress and become more comfortable in your apiary, you may decide that you can maintain focus and stay relaxed in just a jacket or a pullover.
This type of beekeeping protective clothing is best suited for someone cautious and concerned about bee stings, such as someone new or allergic to bees. Full suits also come in handy for beekeepers that are pulling honey or doing other activities that tend to get bees out and flying in large numbers as they work.
Beekeeping Jackets
Beekeeping jackets are an alternative to bee suits, often a smaller investment for those first getting into the hobby. Jackets protect the waistline up and must be paired with beekeeping pants if you want to protect your lower half. This level of protection is a bit quicker to take on and off. They may also be easier to store when compared to a full-body suit.
Guardian Bee Apparel's jackets are made using the same material as the suits, meaning they provide both protection and comfort, as well as the option to customize the beekeeping veil between our three options. These jackets come with upper, lower, and sleeve pockets for tool storage and a wide band of reinforced elastic to avoid mishaps when bending or reaching.
Beekeeping Pullovers
Not commonly offered by many other retailers, a beekeeping pullover provides similar protection to our suits and jackets while saving you time by removing the zipper enclosure that would normally be underneath your chin. Guardian Bee Apparel's beekeeping pullovers are made of highly-sting resistant, ventilated, 3-layer mesh material that can be pulled over the head when it's time to visit the bees. Instead of worrying about those zippers and whether or not they're closed, you can just slip on the pullover and visit your bees.
While it does not protect the lower half, these pullovers have a heavy-duty elastic at the waist to keep it fitted. You'll find it's the best of both worlds when paired with beekeeping pants and gloves, offering protection and comfort.
Gloves & Pants
While not recommended on their own, beekeeping pants and beekeeping gloves are an excellent addition to any style of beekeeping protective clothing. Beekeeping pants offer protection to the lower half that pullovers and jackets may miss, while gloves protect the hands and can prevent damage to your sleeves below the elbow. Guardian Bee Apparel's pants are the same 3-layer mesh material as our pullovers, jacket, and suits. Our glove design is unique to the industry and combines three and 5-layer mesh protection.
Why Not Both Types of Beekeeping Protective Clothing?
In the end, whether a suit, jacket, or pullover is your preference, a wise beekeeper knows that having options is the best choice. Your hives' needs will change, and you, as a beekeeper, need to adapt to your hives' needs.
A beekeeping suit might be the best choice for a day of hive inspections, or if you spend time around honeybees that may be more defensive than normal or any activities that require you to be up close for long periods. A pullover or jacket is the perfect choice for a quick inspection or anything that might require more precision and dexterity. In the end, a beekeeper wants to be out with the hives, so you need gear that encourages you to go out into the field. At Guardian Bee Apparel, we promise you that gear.
Guardian Bee Apparel
Since 2016, Guardian Bee Apparel has been about beekeeping attire made for beekeepers by beekeepers. Our founders have crafted protective wear for beginners, hobbyists, and sideliners. We know the struggles of beekeeping, so we've designed our suits to address the common concerns that will protect beekeepers and keep them comfortable; our quality-of-life features will assist you in caring for your bees no matter what.