INNOVATIVE BEEKEEPING APPAREL
Created by beekeepers, for beekeepers.
Innovation that sparked a movement in protective beekeeping apparel.
The Original Easy Access Veil
Explore More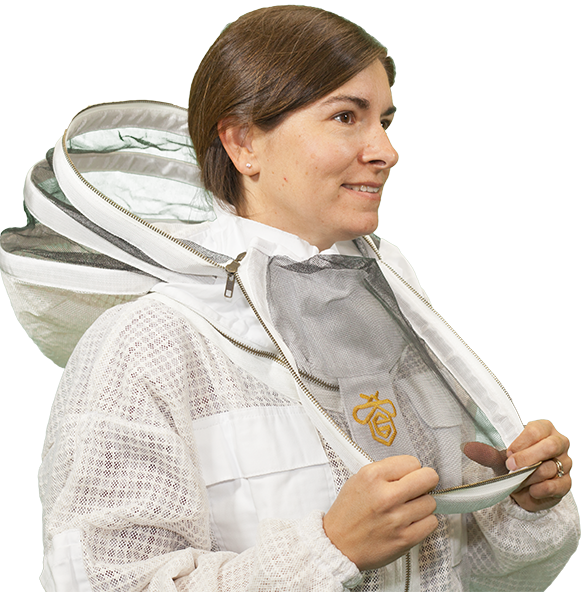 "The 'Easy Access Veil' is the greatest improvement to the bee suit since the introduction of the vented bee suit four decades ago."
"Both the suit and the jacket are very well made. Well ventilated and the Easy Access Veil is really convenient for letting out that 'bee in your bonnet' or getting a quick drink."
"Guardian Bee Apparel's ventilated jacket is ideal! A quality product with innovative improvements that should have been made a long time ago."
Innovative bee protective gear FOR
forward-thinking beekeepers
Our suits, jackets, and pullovers all feature front access veils, allowing full access to your face without having to remove your veil. Stay cool, confident, and protected with our breathable 3-layer mesh material. Heavy-duty metal YKK zippers combined with added "zee space" means less snags and longer wear. A triple zipper system allows you to reach your shirt or pants pockets quickly and safely. Upper, lower and sleeve pockets are all reinforced to prevent blowouts, and ensure your tools are within reach. Hip zippers and ankle straps help make getting dressed a breeze – even with boots on! Heavy-duty elastic plus velcro ankle closures help keep curious bees out, and you protected. 
The option for a full ventilated beekeeping suit or separate jacket and pants plus three veils to choose from means you have the flexibility that leads to the most comfortable, and effective beekeeping protective apparel you can imagine. For convenience, our suits, jackets, pants and pullovers are safe for the washing machine once the veils are removed.
Beekeeping
Suits
The new standard in beekeeper protective gear. Cool & comfortable protection from your head to your toes.
"I have owned a full suit for 2 years now. Excellent cool and light weight. Just buy it."
"Great suits... comfortable, durable, and they breathe so well compared to other suits we've bought. Great product."
"I love my full suit with easy access veil! I feel safe and secure, all while still feeling the breeze through the lightweight mesh material. Appreciate all the pockets, too... and the hip zippers!"
"Best bee jacket. If you were unsure of ordering online do not hesitate. You will not be disappointed. Great customer service also."
"Best piece of Beekeeping Apparel I have found since becoming a Beekeeper in SW Illinois four years ago."
VEIL STYLES TO
SUIT EVERY BEEKEEPER. 
All Guardian Bee Apparel veils feature front access zippers to allow full access to your face, without having to remove your gear. Take a quick swig of water, wipe your face, and even release a rogue bee without removing your protective gear. Our veils are secure to our suits and jackets with a full zipper so they can be fully removed, and can be interchanged between all Guardian Bee Apparel suits and jackets.
The 3-layer mesh provides protection from stings, while offering breathability. Metal YKK zippers, plus added "zee space" prevents zipper over run and allows you to work with ease. Whether you prefer a round veil or fencing style veil, ours are designed with your comfort in mind.

Beekeeping Accessories
The right tools for the job, our beekeeping gloves and hive tools help you work more efficiently and safely.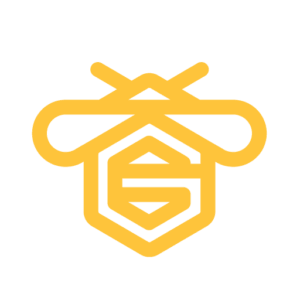 Beekeeping Accessories
The right tools for the job, our gloves and hive tools help you work more efficiently and safely. 
discover the features that make Guardian bee
the new standard in beekeeping apparel.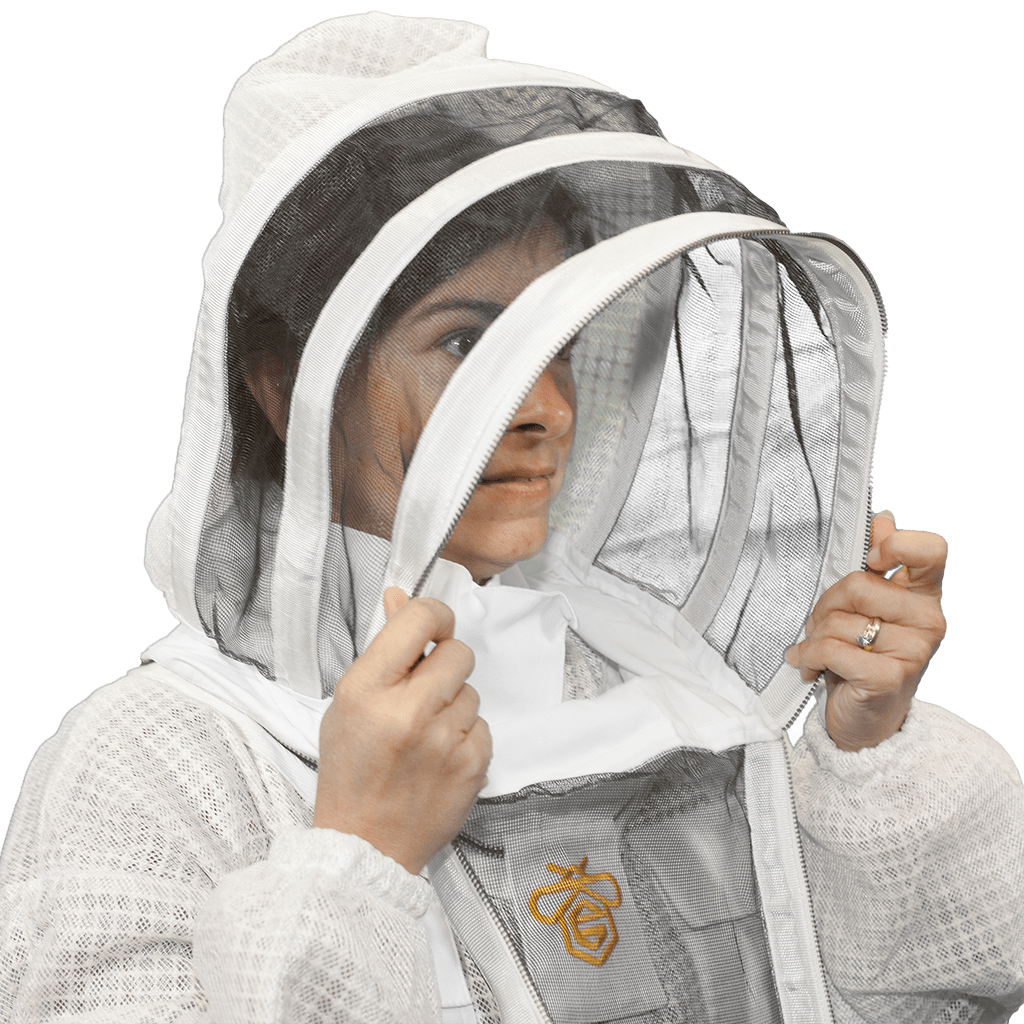 Easy Access Veil
Our  "easy access veil" was the first beekeeping veil to make tasting your honey, drinking a swig of water, or wiping your brow a breeze! It's the new standard!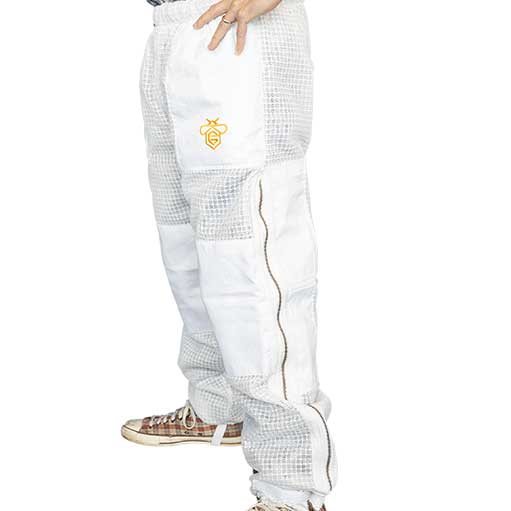 HIP ZIPPERS
We're beekeepers, too. We know how difficult it is getting a full suit on with boots. But our hip zippers help you quickly and easily get dressed, even with boots on.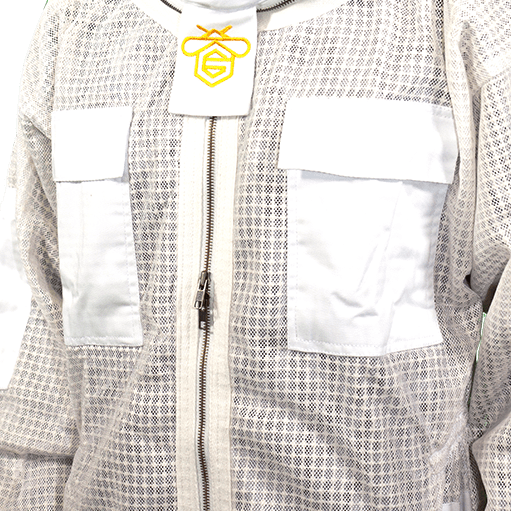 Zee Space
Tired of your mesh getting caught in your zippers? Our "Zee space" adds space and stability between the zipper and the fabric to help prevent zipper over run!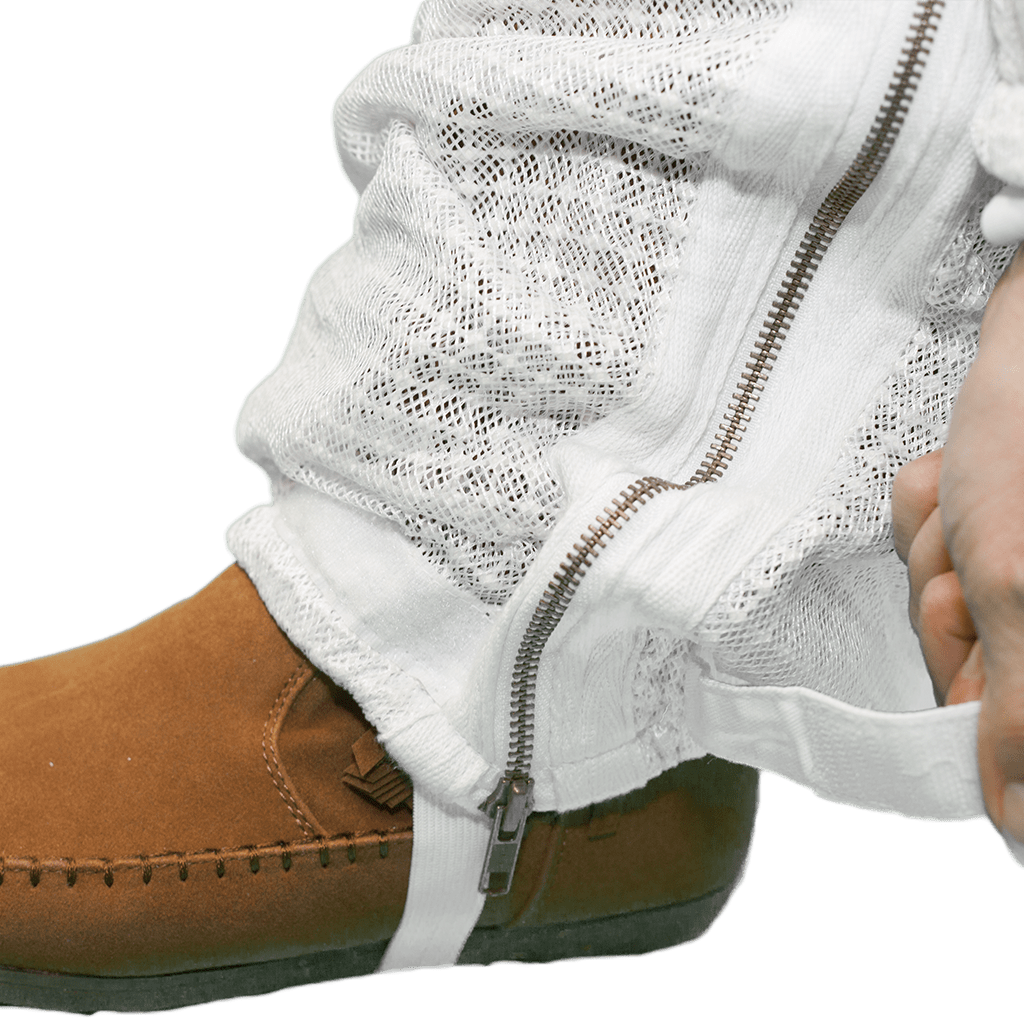 Velcro ANKLE straps
A curious bee buzzing up your pant leg is never a good surprise. That's why we added velcro ankle straps - just a little extra protection that makes a big difference.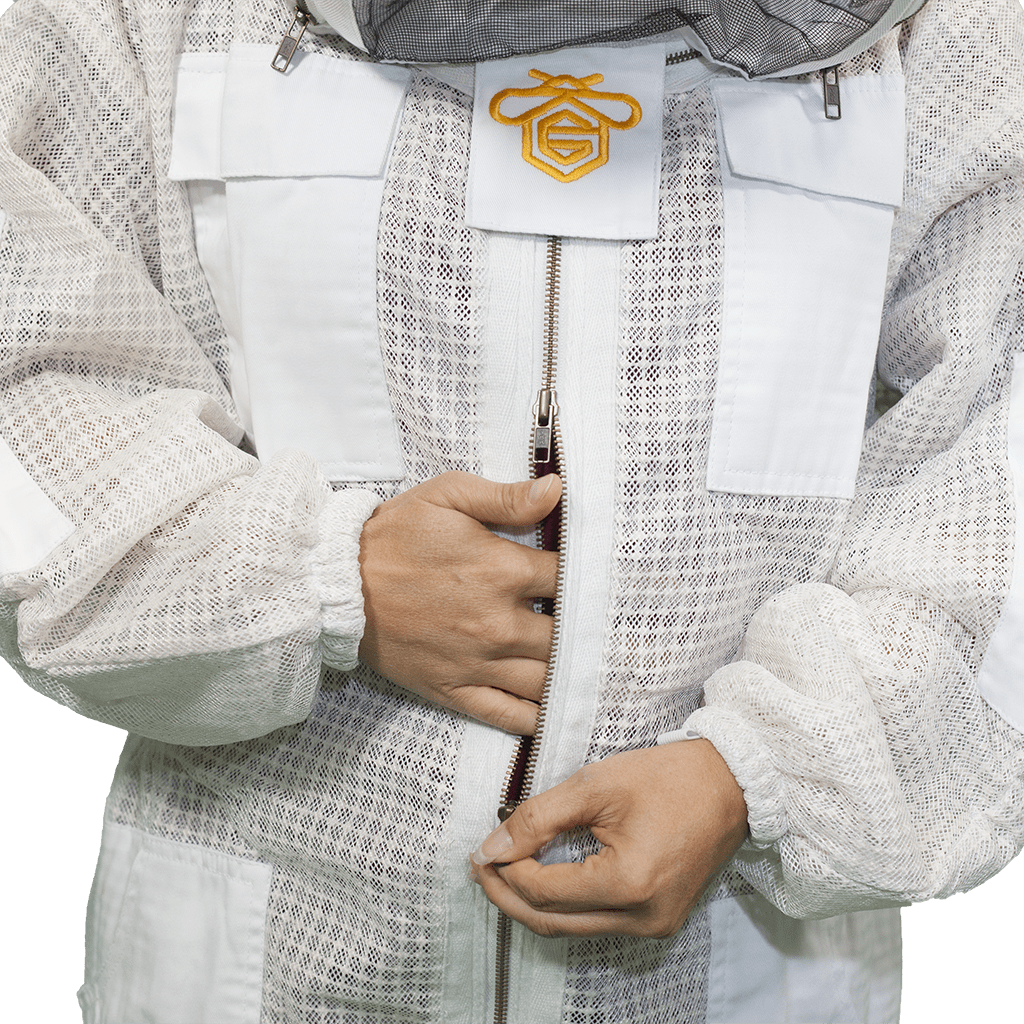 Triple Zipper system
How many times have you wanted to take a picture, but couldn't? Our triple zipper system gives you quick and easy access to your shirt and pant pockets.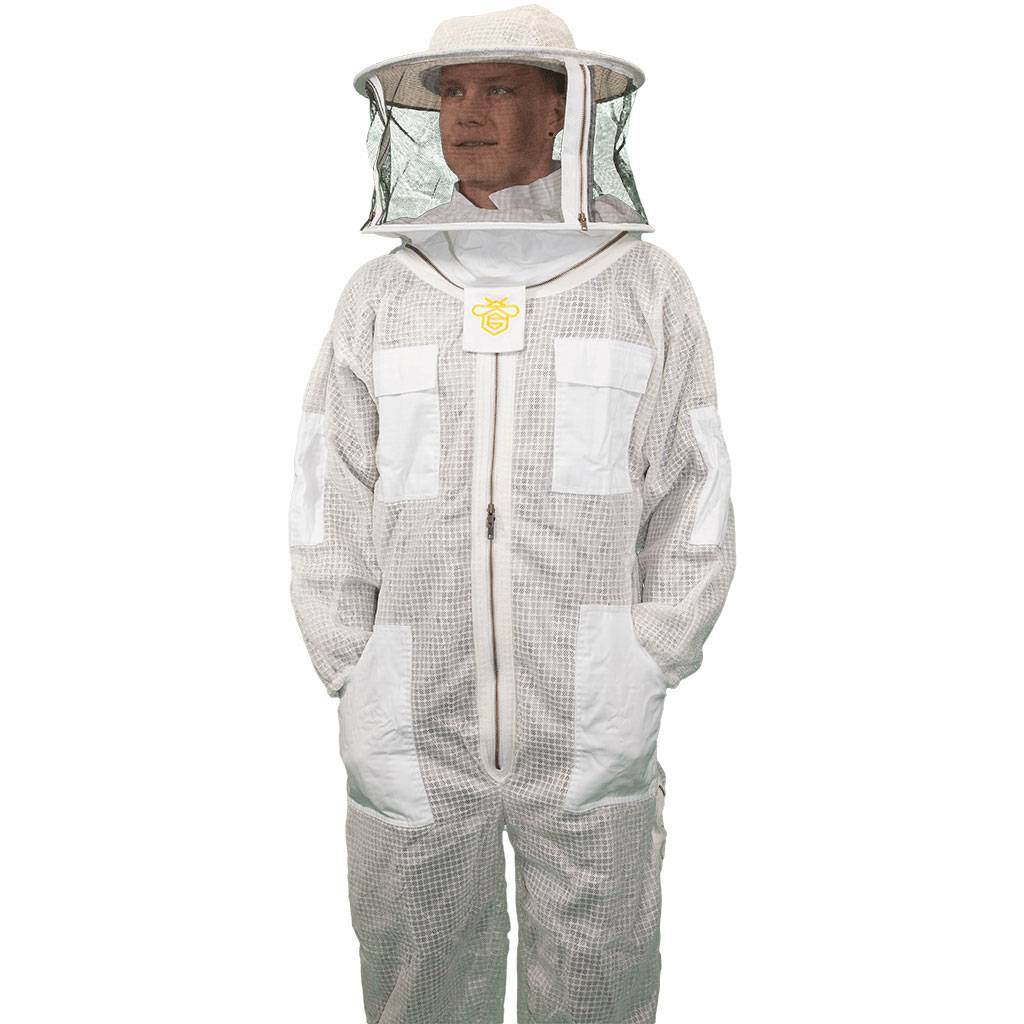 Plethora of Pockets
Upper, lower, and sleeve pockets to give you even more access to the tools you need. All pockets are triple reinforced to prevent blowouts. 
AND MORE!
These unique innovations, plus even more enhancements are why beekeepers around the world love Guardian Bee Apparel.