Vented Beekeeping Suit w/Round Veil
The round veil is ventilated with 3 mesh material that helps protect from stings to the head and also keeps you cool. There is an elastic band that helps to keep the veil from moving around. There are also access zippers to the left and right so that you can stay hydrated and keep your eyes clear!
Our highly-sting resistant, ventilated, 3-layer mesh material keeps you cool and confident, while our triple zipper system give you easy access while still offering protection. Upper, lower, and sleeve pockets give you even more access to the tools you need, and all pockets are reinforced to prevent blowouts. Our beekeeper suits are made with hip zippers to help you quickly and easily get dressed, and velcro closures at the bottom offer added protection.
Features
Round veil, featuring left and right access zippers.
Elastice band to prevent veil from moving around.
Veil zips securely to the suit, protecting you from curious bees.
Highly sting-resistant, ventilated 3-layer mesh material to keep you cool, calm and protected.
6 large, reinforced pockets  – 2 on the chest, 2 on the sleeves and 2 on the hips.
Heavy duty metal YKK zippers with added "z-space" to prevent overuns and snags.
Triple zipper system for easy access to shirt and pants pockets, while keeping you protected.
Heavy duty elastic wrist and leg openings.
Hip zippers for easy on/off, even with boots on.
Velcro closures at the ankles for added protection.
Note: All Guardian Bee Apparel Veils are interchangeable with Guardian Bee Apparel Suits and Jackets.
Sizing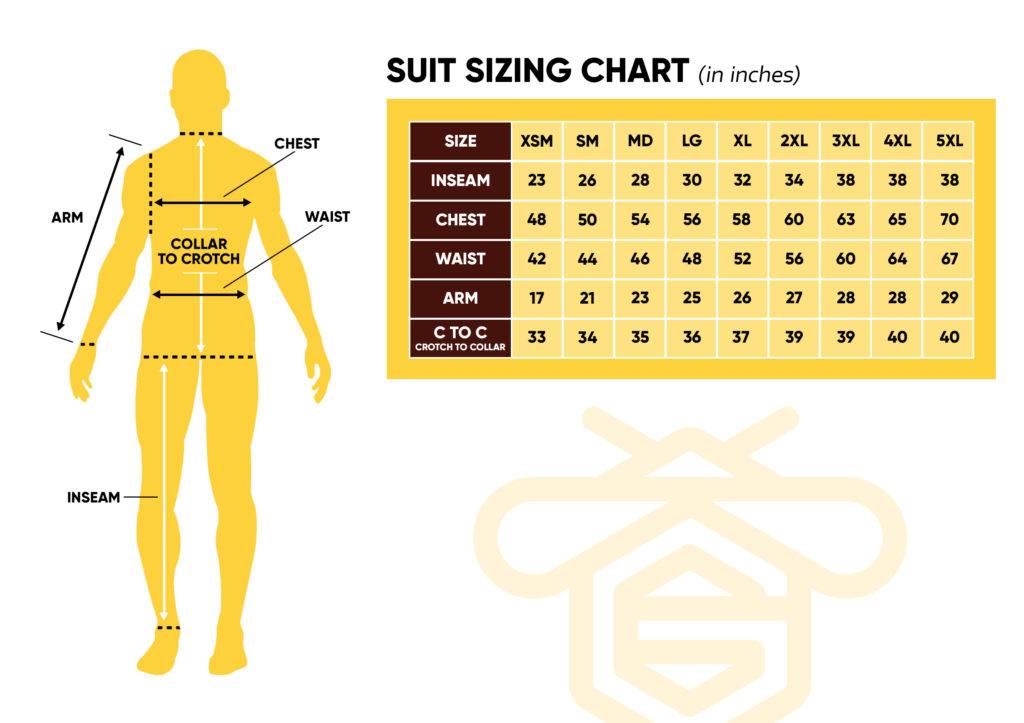 Tips on sizing: The sizing of our suits are largely based off of height, and ours run big. A small suit would typically fit a person ranging from about 5'2" to 5″5. XL would typically fit a person of 5'10 to 6'. 5XL puts you up around 7′! If you are more robust you can adjust the size up to compensate for that. Still worried about finding the right fit? Send us an email at support@guardianbeeapparel.com. We also offer free exchanges. Buyer pays return shipping.
Only logged in customers who have purchased this product may leave a review.